Volunteers at EarthCorps
We are excited to welcome our volunteers back and joining us in restoring our public greenspaces!  To help you safely do so, we implemented some new procedures and protocols. EarthCorps' top priority remains keeping staff, corps members, and our extended community healthy and safe.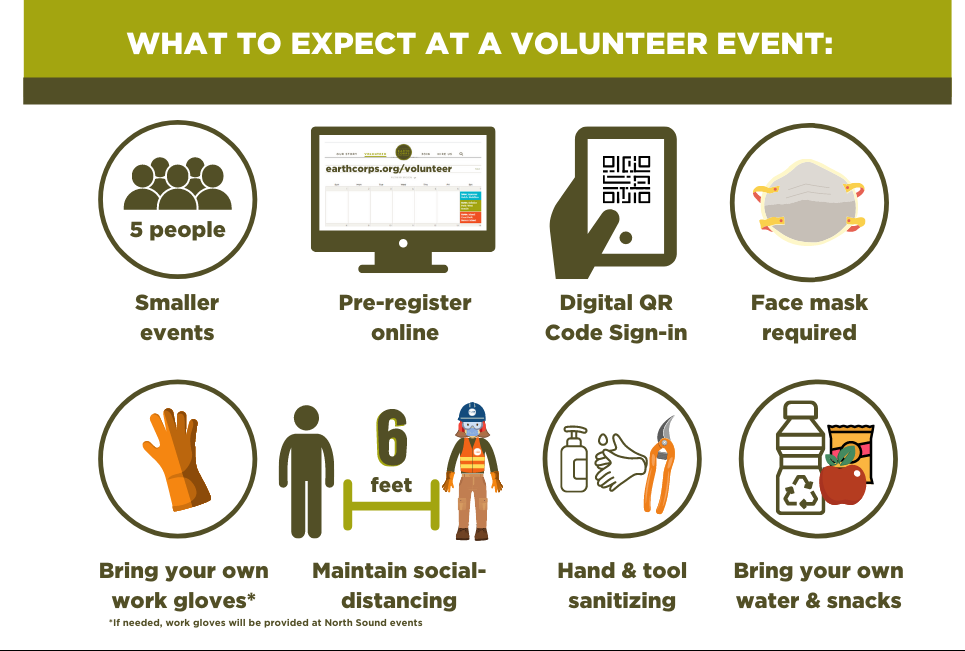 EarthCorps enables community members of all ages to give back to their community by helping keep city parks and forests healthy.  You bring a positive attitude, your mask, snacks, water bottle, and clothes that can get dirty, and EarthCorps will provide the rest!
ABSOLUTELY NO EXPERIENCE NEEDED!
EarthCorps staff and volunteer leaders will teach you everything you need to know about the work including tool safety, forest health, and the importance of the specific tasks you will be doing.
WHAT WILL WE BE DOING?
While the exact tasks at hand vary, our projects focus on improving the forests and parks in our local cities. Healthy forests are vital to our community because they filter rainwater, purify the air, provide living spaces for wildlife, and give people a place to connect with the outdoors.
Tasks include:
Removing aggressive weeds like English Ivy and Himalayan Blackberry
Planting native trees and shrubs
Spreading mulch
COVID-19 PREVENTION GUIDELINES:
Pre-register online. No walk-up volunteering at this time. We need to know what to be prepared for, thank you for understanding. If you are registering for an event in Tacoma, please visit our Tacoma volunteer page for further guidelines and protocols. 
Digital QR Code sign-in. O

nce you arrive scan the event QR code with your phone to sign yourself in. Waivers should be completed after you register online. For youth volunteers, there is an additional step of verifying your parent/ guardian. 

Face masks are required. If needed, North Puget Sound events will have disposable masks on hand.
Smaller events.

Each of our events will host a max of 5 volunteers at a time.  

Clothing that can (and will) get dirty and closed-toed shoes. (work boots, hiking boots, rubber boots, or tennis shoes). Rain gear and warm layers (check the weather!)
Bring your own water and snacks.
Maintain social distancing. During the event please be sure to maintain a 6-10 feet physical distance from fellow volunteers and our event leads.
Bring your work gloves. If you need work gloves, all North Puget Sound events will have extra on hand.
At any point our public agency or public health guidelines change, processes will be updated to reflect current restrictions and practices.
YOUTH AND KIDS: 
Volunteers of all ages are welcome! The work is typically geared towards adults and kids 10 and up, but younger kids are welcome to participate. Parents of younger kids should expect to supervise their children.  Youth under the age of 14 must be accompanied by a parent, guardian, or responsible adult. If you are under 18 years old, make sure your parent/guardian completes your waiver which is required in order for you to participate. Waivers should be completed after you register online. For youth volunteers, there is an additional step of verifying your parent/ guardian.
Show All
All youth under 14 years old must be accompanied by a parent, guardian or responsible adult. Youth between the ages of 14 and 17 who are not with a parent or guardian must complete a signed waiver.
Yes. Exposing kids of all ages to caring for the environment is important, but two hours can seem like a long time for little ones. You are welcome to leave early, but make sure you show up at the beginning of the event so you do not miss important safety information.
Service Hours and Credit for Volunteering
In many cases, volunteering with EarthCorps counts for service hours! Check with your school, class, or program to verify that volunteering with EarthCorps (a 501c3 nonprofit) will count. When you sign up for an event on our volunteer calendar, please indicate if you are volunteering for credit. This helps us know that our volunteer team needs to sign your forms and approve your hours.
Show All
Make sure that you indicate that you are a service learning student when you sign up for the volunteer event. You are responsible for asking EarthCorps staff members to sign/approve your service learning hours. Ask the EarthCorps staff member to sign your papers at the event, or email the Volunteer Team.
Don't wait until the last minute! Allow 5 business days for the Volunteer team to get back to you.
The Volunteer Team works Tuesday–Saturday. They are not in the office on Sunday and Monday. Expect to hear back from them later in the week.
Yes, EarthCorps can verify court-ordered volunteer service hours. The only exception is that we cannot sign off on any hours completed within the City of Kirkland; all other locations are fine. Please contact the Volunteer Team at least a week ahead of time if you need verification submitted.
Yes, EarthCorps is a registered Workfare organization. Forms can be sent to the Volunteer Team for verification. Please let us know at least a week ahead of time if you need verification submitted.
General Volunteer Event Questions