Corporate Partnerships
Step out of your office and into a forested park! Your company can give back to the community by digging in and restoring Puget Sound area parks and urban forests.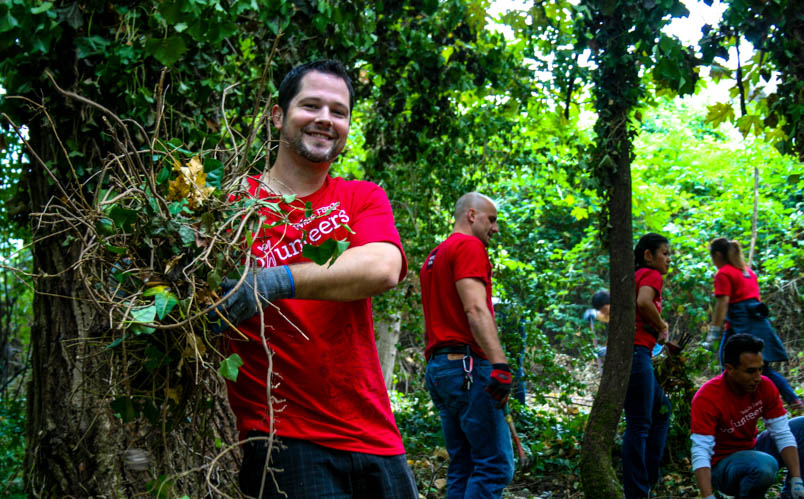 EarthCorps offers a range of mission-driven volunteer experiences that advance your corporate philanthropic and team building priorities. Typical activities include removing non-native plants that are threatening the forest health; planting native trees and shrubs to re-establish a healthy ecosystem; and caring for plants by applying fresh mulch.
Are you sweating the details? Let us handle it.
EarthCorps staff will take care of everything needed to provide your employees with a fun and fulfilling volunteering experience – from prepping the site to providing all tools, work gloves, snacks, and drinks. Our Volunteer Team will give an inspiring overview of the project and provide expert training and guidance throughout the event.
Find the right volunteer event for your group.
Visit our Volunteer Calendar to see if there are any open volunteer events that work for your group. Corporate groups of 3 – 20 are welcome to join any volunteer event that is open to the public.
EarthCorps offers private volunteer events for corporate groups of 20 – 200. Private events are typically held on weekdays and last three or four hours between 9:00 am and 3:30 pm. Contact Beth Cohen, Development Manager, to schedule a private event.
Want to support the cause?
EarthCorps is an independent non-profit that depends on donations from supporters and sponsors. We greatly appreciate donations and sponsorships from our corporate partners. For more information about sponsoring an event or making a donation, please contact Beth Cohen, Development Manager.