2023 Crew Leaders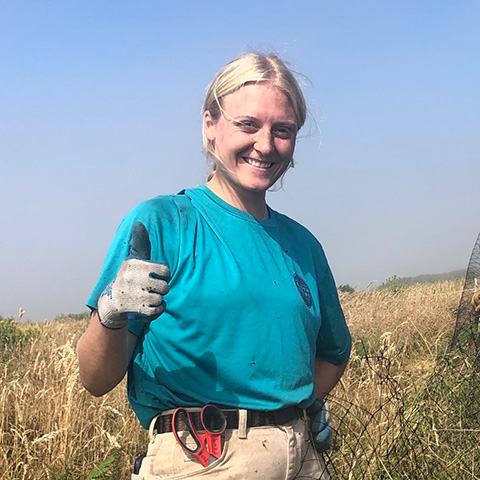 Caitlin (she/her) grew up in Northeast Ohio, where she found her home in the outdoors. Her curiosity and admiration for the natural world sparked her drive for pursuing a degree in environmental science and sustainability. After completing her studies at Baldwin Wallace University in December of 2021, Caitlin moved to Seattle and joined EarthCorps as a Crew Member for 2022. She values getting to spend each day outdoors, connecting to the earth in new ways, and feeling an ever-deepening sense of respect for nature.
---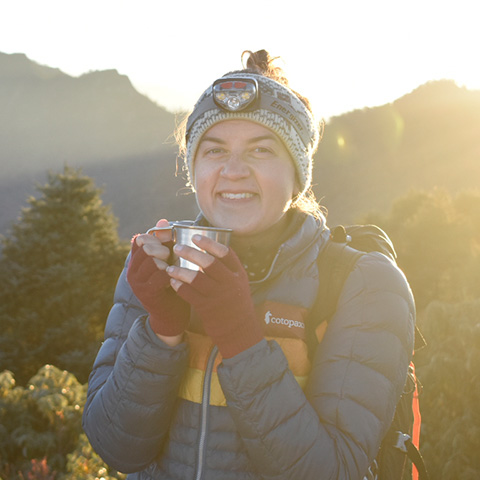 Christyn Riehl (she/her) is from Lancaster, Pennsylvania but has been traveling around the country for the past year gaining conservation experience in Utah, Georgia, Maine, and now Washington! Christyn's educational background is in Outdoor Education and Cultural Anthropology, and she previously worked in higher education. As she was reflecting on her career, interests, and values, Christyn felt tugged toward returning to outdoor spaces, specifically exploring what it looks like to partner with the land and with communities to preserve, restore, and enjoy the natural world. Americorps experiences have provided an incredible avenue for her to pursue this career transition and she can't wait to help facilitate similar opportunities for others! In her spare time Christyn enjoys finding interesting hikes, exploring new places, seeking out unique experiences, and generally dabbling in an ever-fluctuating list of interests and topics.
---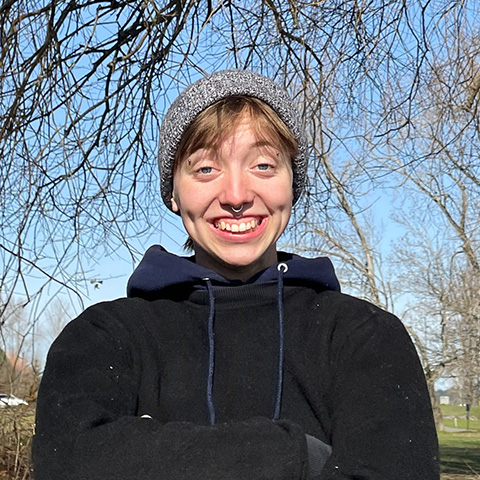 Emi Cramer (any/all) grew up in Utah where she fell in love with the mountains near their home and developed an appreciation for the great outdoors. After moving to Florida, they were able to work outdoors during summer camps and share her gratitude for the planet and marine habitat.
Emi spent time admiring the red rocks of Sedona of Arizona before moving to Seattle to become a crew member in 2022. They are excited to grow into crew lead position this year at EarthCorps.
"I have always been passionate about environmental conservation. EarthCorps has been an amazing opportunity to get my hands in the dirt and continue to be on the front lines of restoration."
---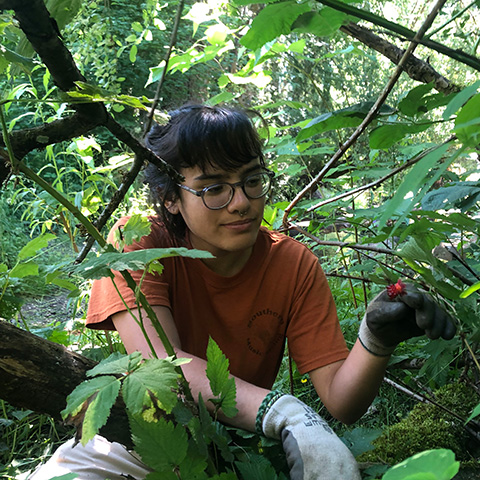 Jade Greene (they/them) grew up in Madison, Florida. Ever since they were young, Jade has always had a passion for the environment, from collecting rocks and climbing trees to volunteering at beach cleanups. They got into the field of environmental restoration through the Florida Conservation Corps. Jade enjoyed connecting with nature and practicing land stewardship. Their work led them to being a member at EarthCorps, expanding their knowledge of ecological systems and community care.
---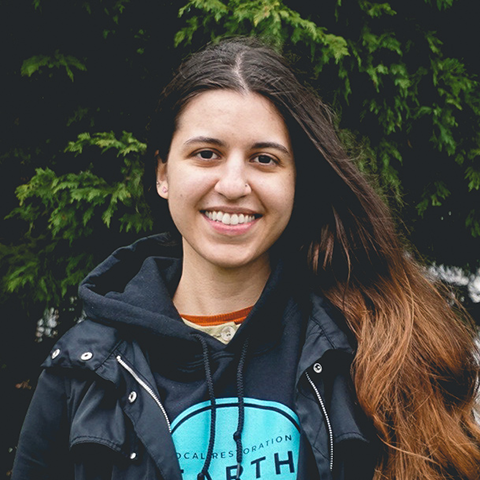 Sabrina Brittain (she/her) calls Royersford, Pennsylvania home. Sabrina has always felt drawn to nature's beauty and complexities. She has explored this through art and traveling, and most recently through stewardship and restoration. She is looking forward to returning to EarthCorps as a crew leader and connecting with more fellow environmental enthusiasts while restoring and healing the land. When not in the field, you can find Sabrina sipping a latte, gardening, baking, stargazing, or trying to identify a new plant.
---
Farm Specialist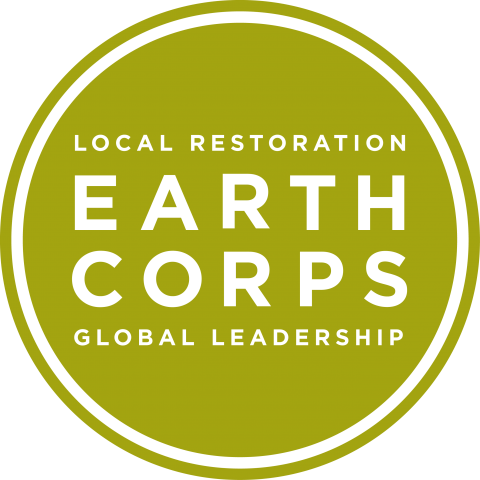 ---
International Corps Members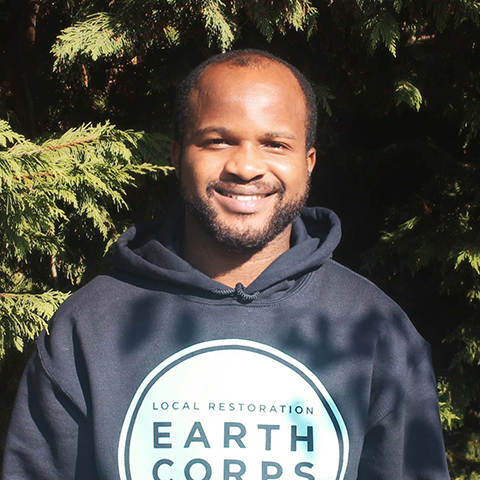 Ayomide is a young and passionate environmental leader from Nigeria. He is 28 years old with over 4 years of working experience in environmental sustainability and circular economy (recycling) space.
He is the founder and team lead of CLAHN (Cleaner & Healthier Nature Initiative), a youth-led organization that promotes environmental sustainability and health status across communities in Nigeria.
Ayomide also has great interests in recycling and circular Economy. He is calm, loves music, learning musical instruments, and planning and teamwork.
---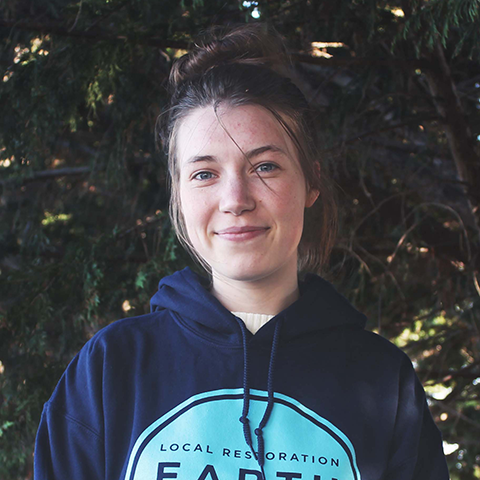 Surrounded by rivers and forests, Gabija grew up in Vilnius, Lithuania, and is a recent graduate of the BSc Global Responsibility and Leadership program with environmental science and social psychology major. Seeing, seeking, and fostering a connection with nature and local communities is the main inspiration for Gabi's work!
"I am Gabija, a 22-year-old Lithuanian and outside of work, you will usually catch me enjoying nature, listening to an art-history-related podcast, or taking film photos of my friends. All completed with a scoop of pistachio ice cream on the side, of course. While I can appear quite shy, I absolutely love connecting with people, having long fireside chats, and cracking sarcastic, but always good-hearted, jokes."
---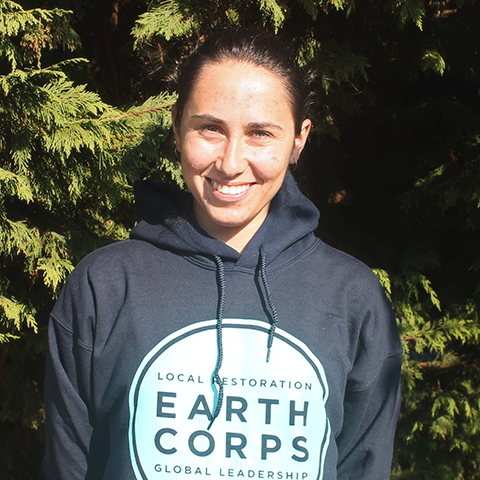 "I am Ia from Georgia currently studying MA in nature protection and forestry and working for Transcaucasian Trail Georgia (a transboundary hiking network in the Caucasus). It's not hard to guess that I love spending my time in nature, mountains, and hiking, I've just started practicing slacklining. During covid pandemic, I bought my first camera and shooting is still one of my biggest hobbies.
The more I travel the better I realize how much I don't know and how much I can learn from every single human-being. Therefore, I am very excited when it comes to meeting new people, trying new things, and sharing respective experiences."
---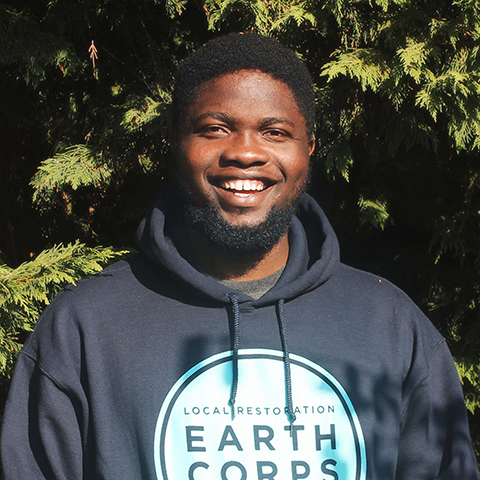 Raphael is a project officer with the Ghana Wildlife Society (GWS). Before working with GWS, he earned a degree in Animal Biology and Conservation Science and has worked with GWS for four (4) years. He is currently working on identifying the home range of the White-necked Picathartes using radio telemetry. Raphael loves nature and enjoys discovering the wonders of the earth.
"My love for nature took root through my upbringing on the shores of Jamestown, Accra. I appreciate the inherent connection between people and nature. I believe restoration is essential to safeguarding our coexistence with nature and will only be successful through positive engagement with all communities and stakeholders. I am easy-going, honest, funny, courteous, and open-minded. I love narrating stories about my life experiences and how it has shaped me into the young man I am today."
When he is not working, Raphael loves spending time with family and friends, watching soccer, or going birdwatching!
---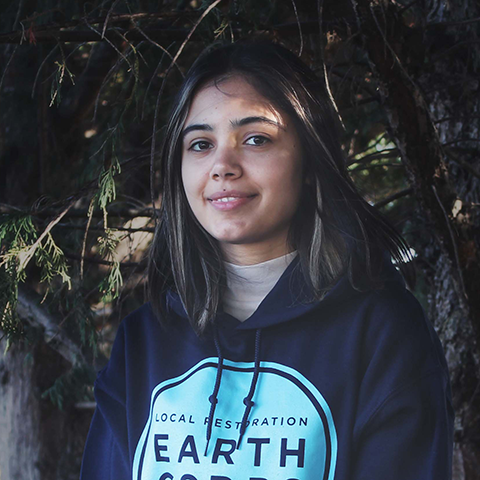 Shahina has recently received her BSc in Earth and Environmental Sciences. She is working in the field of environmental conservation in the Pamirs, a place where she was born and raised. Now she is assisting in carrying a camera trap research to identify the population of snow
leopards.
"I belong to a small group of indigenous people living in the Pamirs. I have learned to value and take care of nature from my childhood, and now I work towards the preservation of the mountains I have always called home. I spend my free time either with my family or friends. I love exploring new places, having deep conversations, watching good movies, and taking photos."
---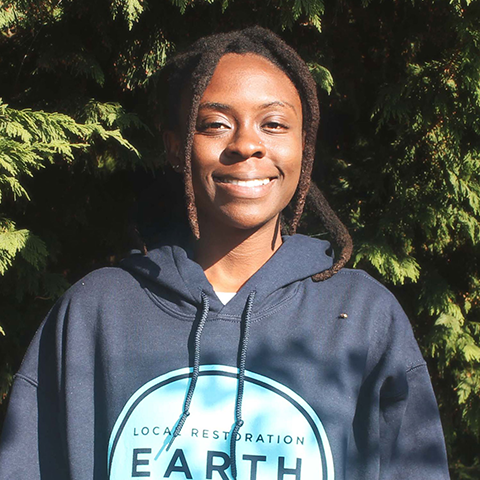 Vanessa works as a freelancer and tutor, but is an eco-entrepreneur and environmental advocate at heart. She completed a Master's program in Integrated Coastal Management in 2018, and has since actively met and worked with resource persons in view of setting up a permaculture ecovillage. This project will bring together development, research, education, and therapy, and will usher in much-needed restoration in the wake of the civil crisis plaguing her home country Cameroon.
"Hi, I'm Vanessa. I'm 28 and still growing :). I like to learn and know a little bit about everything, and so I love books, adventure, and inventing new recipes. I'm a huge fan of all types of music, all forms of wellness, and of giving and receiving kindness. I'd like to change the world in these ways!"
---
2023 Crew Members