All People and Nature
EarthCorps envisions an equitable world where all people and nature thrive together.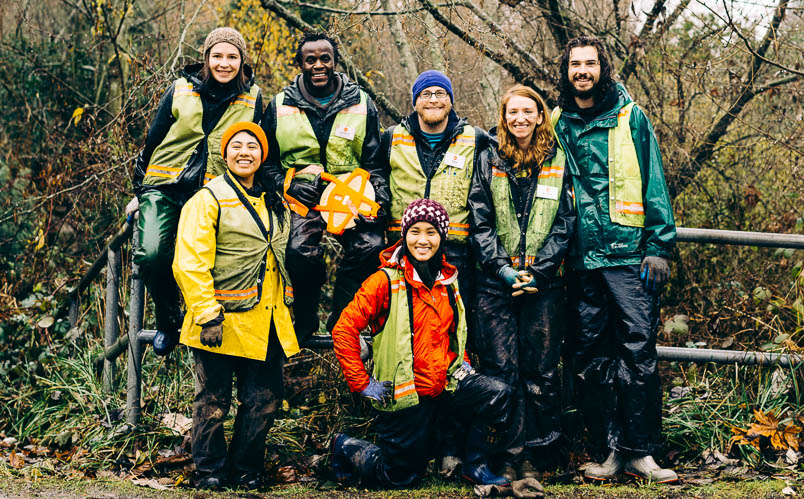 At EarthCorps, we believe in the power of people and communities to tackle relevant and pressing challenges facing our planet.
EarthCorps brings together passionate and hardworking young adults from the US and countries around the world for a yearlong leadership training program in Seattle, Washington. As we care for the land and each other, our dedication to ecological restoration is guided by our lens of racial equity and environmental justice.
The Puget Sound is our classroom and our legacy.
Our corps members learn leadership skills by working collaboratively, leading community volunteers, and executing technical restoration projects along shorelines, trails and in forests. Every day our corps is hard at work – listening to the communities we serve and improving the health of the Puget Sound region.
After the yearlong program, these young leaders leave EarthCorps with the tools and skills to tackle the pressing issues of our time – including climate change, pollution, environmental justice, and ecological degradation – to create a better and more equitable world for all of us.
We can't do it alone.
EarthCorps depends on the generosity of committed volunteers and donors. More than 10,000 youth, business leaders, and community members join us annually, as we work to sustain and restore our public parks for future generations to enjoy. Dig in and volunteer with us.
Vision
EarthCorps envisions an equitable world where all people and nature thrive together.
Mission
EarthCorps cultivates leaders and community ​partnerships to advance environmental justice.
EarthCorps is a 501c3 non-profit located in Seattle, Washington.