People and Nature
EarthCorps envisions a world where people and nature thrive together.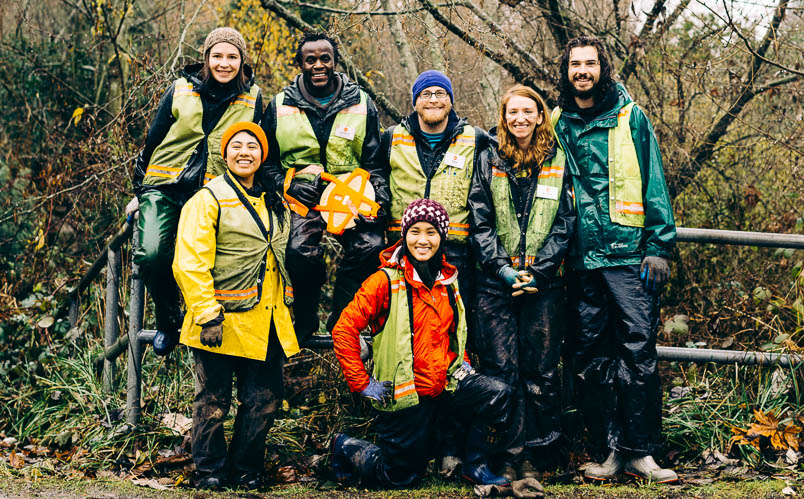 At EarthCorps, we believe in the power of people to tackle the most pressing challenges facing our planet.
EarthCorps brings together passionate and hardworking young adults from the US and countries around the world, for a yearlong leadership training program in Seattle, Washington.
The Puget Sound is our classroom and our legacy.
Our corps members learn leadership skills by working collaboratively, leading community volunteers, and executing technical restoration projects along shorelines, trails and in forests. Every day our corps is hard at work, improving the health of the Puget Sound region.
After the yearlong program, these young leaders leave EarthCorps with the tools and skills to tackle the pressing issues of our time – including climate change, pollution, and ecological degradation – to create a better world for all of us.
We can't do it alone.
EarthCorps depends on the generosity of committed volunteers and donors. More than 10,000 youth, business leaders, and community members join us annually, as we work to sustain and restore our public parks for future generations to enjoy. Dig in and volunteer with us.
Vision
EarthCorps envisions a global community of leaders who create a world where people and nature thrive together.
Mission
EarthCorps develops leaders to strengthen community and restore the health of our environment.
EarthCorps is a 501c3 non-profit located in Seattle, Washington.
Values
Integrity: We are committed to working hard, maintaining the highest moral, ethical and technical standards and having fun. We do this because we have an obligation to the community, the environment and ourselves.
Sustainability: The long term viability of our planet depends on work we do now. We are passionate in our belief that everyone has a role to play in sustaining the health of our natural systems.
Inclusivity: The strongest systems are those that bring together the strengths of diverse constituents. We are committed to developing human potential across racial, ethnic, economic, gender, and national lines.
Service: Everyone, everywhere, can act to improve the world; these contributions enrich the givers, the natural environment, and human communities. Our experience demonstrates that people work best when they are part of teams that foster leadership, support individual empowerment and build community.