EarthCorps in Tacoma!
Green Tacoma Days Activity!
Tacoma Open Space Program – Bio-Blitz and Forest Bathing
With EarthCorps and the City of Tacoma Open Space Program.
Download the iNaturalist (www.iNaturalist.org) app, and then go to https://www.inaturalist.org/projects/tacoma-open-space-project.
Visit one of the City of Tacoma's publicly-accessible open space restoration sites (listed below) and record the species you see!
End your visit with a "forest bathing" following this online guided mediation.  Thanks for participating!
---
We're Back!
As part of Governor Inslee's Safe Start plan, EarthCorps is restarting outdoor volunteer events in alignment with Phase 2 in Tacoma. EarthCorps' top priority remains keeping staff, corps members, stewards and our extended community healthy and safe during this public health crisis. We know you are excited to get back to restoring our public open spaces, so we have implemented some new procedures and protocols to help you do so safely.
Phase II Tacoma Open Space Program volunteer events:
Smaller events – events limited to five volunteers per event. No exceptions.
Pre-registration will be required for all events. No walk-up/last-minute volunteering at this time. Register as usual at earthcorps.org/volunteer
Digital QR Code Sign In – Day of event sign-in is now digital.  Once you arrive, locate the QR Code Sign In, scan the event QR code with your smart mobile phone and check submit to sign yourself in.
Face Masks Required – You will be required wear a mask to the event and wear it during the event at all times.
Bring your own work gloves. Please bring your own gloves for your comfort and safety. Leather, cow hide, or cloth/rubber work gloves work best.
Social-distancing during the event. Work will be organized around maintaining a minimum distance between persons of at least 6 feet at all times.
Hand-washing, tool sharing and tool sanitizing 
Hospitality at the event – while we are glad you are with us, we will not be providing water, shared coffee, snacks, during our events, for your protection. We recommend you bring your own water and snacks to the event and do not share these with other volunteers.
It is our commitment to run safe volunteer events. Please do your part to volunteer responsibly and follow all state and county COVID-19 guidelines. Stay up to date with the latest events and information on Instagram (@EarthCorpsSouthSound) and our South Sound Facebook Group.
---
Improve the health of our urban forests and wetlands
Open spaces provide a number of benefits to Tacoma residents: they filter our air, absorb rainwater, prevent dirty stormwater runoff from polluting the Puget Sound, and provide a home for native birds and animals. They also provide a place where people can get out and enjoy the physical and psychological benefits of nature in an urban environment.  Individuals, students, corporate or community groups are all welcome to come out and lend a hand improving these places!
Our Project Sites
Northeast Tacoma
Julia's Gulch – currently limited accessibility due to parking lot closure. (Map)
North End

Mason Gulch – no public access (Map)
Port-Area
qʷiqʷəlut "little marsh" (formerly Rhone-Poulenc Salt Marsh) – accessible/limited parking (Map)
South End
Fern Hill – currently not accessible
South Ash St. – accessible (Map)
South Tacoma
Wapato Hills Park – accessible (Map)
52nd Street Wetlands – currently not accessible (Map)
Trafton – accessible (Map)
Eastside
Blix – not accessible
As we continue to build our presence in Tacoma, look for additional sites to be added!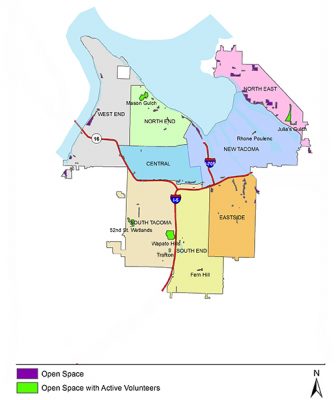 Volunteer at one of our events!
The events are open to people of all ages and abilities, so invite your family, friends, coworkers, social group, or come on your own! EarthCorps staff and habitat stewards will teach you everything you need to know to help make a difference.  Take a look at our Volunteer Calendar to see what days EarthCorps is hosting a volunteer event near you!  Find out more specifics on our What to Expect at a Volunteer Event page
Become a Habitat Steward
EarthCorps relies on committed volunteers to help maintain the City of Tacoma's healthy forests and wetlands. Habitat Stewards are volunteers who want to actively care for Tacoma's urban forests and wetlands and make a deeper commitment to a site by leading volunteer events. Recruitment for new stewards typically happens in the Fall for new sites the following year. Habitat Stewards receive training from EarthCorps staff members so they feel confident performing ecological restoration and leading other community volunteers.