EarthCorps in Tacoma!
EarthCorps and the City of Tacoma invite community members to help improve the health of our urban forests and wetlands!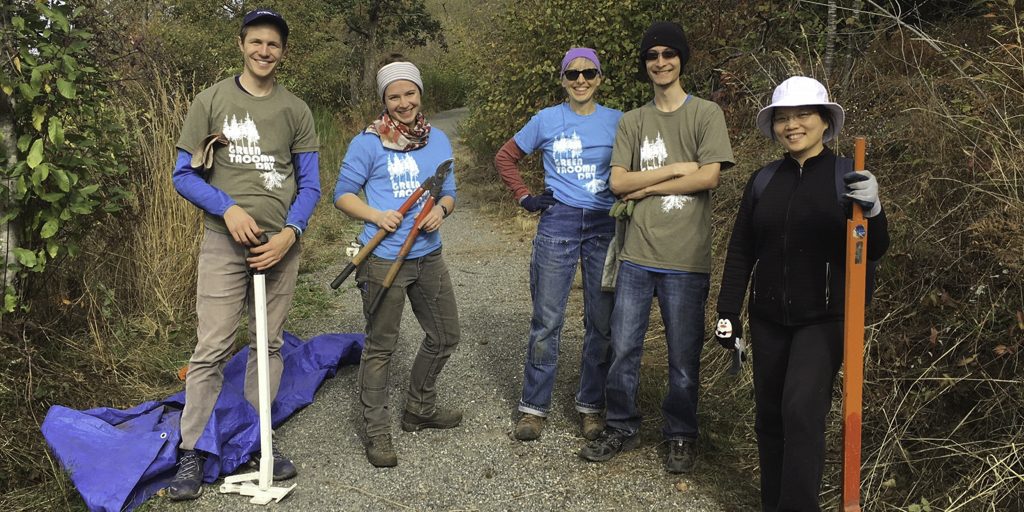 Volunteer with EarthCorps in Tacoma's wetlands and urban forests!
These natural areas provide a number of benefits to Tacoma residents: They filter our air, absorb rainwater, prevent dirty stormwater runoff from polluting the Puget Sound, and provide a home for native birds and animals. They also provide a place where people can get out and enjoy the physical and psychological benefits of nature in an otherwise urban environment.
Individuals, students, corporate or community groups are all welcome to come out and lend a hand improving these places!
Make a difference in your neighborhood!
EarthCorps hosts volunteer events in neighborhoods all around Tacoma. Take a look at our Volunteer Calendar to see what days EarthCorps is hosting a volunteer event near you!
Northeast Tacoma
– Julia's Gulch
North End
– Mason Gulch
Port-Area
– Rhone-Poulenc Salt Marsh (qʷiqʷəlut)
South End
– Fern Hill
South Tacoma
– Wapato Hills Park
– 52nd Street Wetlands
– Trafton
As we continue to build our presence in Tacoma, look for additional sites to be added!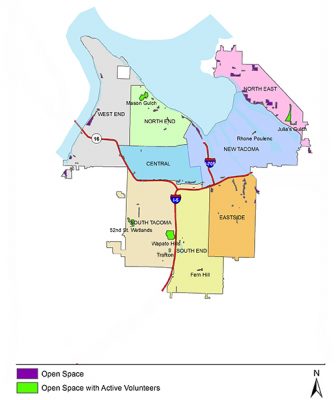 Volunteer at one of our events!
The events are open to people of all ages and abilities, so invite your family, friends, coworkers, social group, or come on your own! EarthCorps staff and habitat stewards will teach you everything you need to know to help make a difference.
Find out more specifics on our What to Expect at a Volunteer Event page
Adopt a Site
Become a Habitat Steward! EarthCorps relies on committed volunteers to help maintain the City of Tacoma's healthy forests and wetlands.
Habitat Stewards are volunteers who want to actively care for Tacoma's urban forests and wetlands and make a deeper commitment to a site. Habitat Stewards receive training from EarthCorps staff members so they feel confident performing ecological restoration and leading other community volunteers.
EarthCorps' is not new to Tacoma, but our address is.
EarthCorps has been working in Tacoma since the 90's, but we've finally launched our Tacoma Office in 2017! EarthCorps has a South Sound Project Manager, Dan Enbysk, who manages all of EarthCorps' volunteer projects in Tacoma and in Federal Way. His office is located in the Center for Urban Waters at 326 E D St, Tacoma, WA 98421.