You give because you care
Take a look at the many ways you can invest in people and nature, and choose an option that works for you.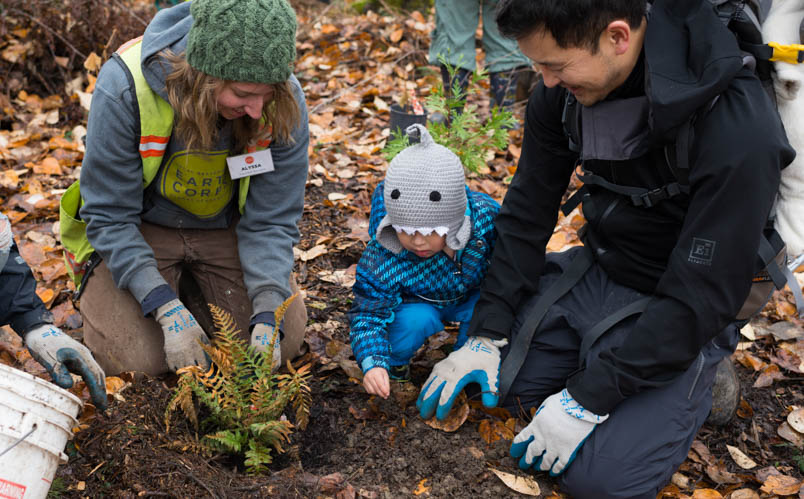 Donate online
Making a gift online is fast, easy, and secure. Click here to make a gift using your credit or debit card.
Write a check
Make your check payable to EarthCorps and mail to:
EarthCorps
6310 NE 74th St #201E
Seattle, WA 98115
Become a Perennial donor!
Spread your donation across the year! Set up a recurring monthly donation online.
By becoming an EarthCorps monthly Perennial donor you provide strong and steady timely funding.
Leave a Legacy
Planned giving opportunities offer creative, flexible ways for you to support EarthCorps – now and into the future. Learn more about ways you can leave a legacy.
Give us a call
Want to talk to a human? Give us a call and will happily take your donation information over the phone. Call 206.209.2342 to talk to the Development Team.
Have your company match your donation and volunteer hours
Did you know that many companies like Adobe, Boeing, Microsoft and Starbucks will match the donations that their employees make to non-profits? Some also match their employees' volunteer hours! Check with your company's human resources department to find out about its matching-gift policy.
Transfer Stock
Please help us thank you for your gift of stock! Please let us know at miranda@earthcorps.org if a gift is being transferred, as stocks arrive in our account without identification. Include your name, mailing address for tax receipt and purpose of gift. Thank you!
Provide your broker with the following information:
EarthCorps (6310 NE 74th Street, Suite 201E, Seattle, WA 98115)
Tax ID: 91-1592071
Account Number: 75970808
Broker: Vanguard
Broker DTC#: 0062
Phone: 1-888-273-4205
EarthCorps contact information:  206.322.9296 | miranda@earthcorps.org
Remind your broker to include your name, contact information, and any special instructions for use of the gift with your transfer.
Contact Miranda Berger, Development Director, at miranda@earthcorps.org with information about the type of stock you're giving and number of shares, as well as any special considerations you may have.
Support EarthCorps while you shop!
You can donate to EarthCorps – at no cost to you – by shopping online at AmazonSmile or at Bartell Drug stores. Both companies have programs where they will give a percentage of your order to EarthCorps. Sign up and get shopping!
Accountability – You trust EarthCorps with your money. We want to show you that we are diligent about investing it in our programs. Take a look at our balanced budgets and where the money goes in our Annual Reports.
1% for the planet
Does your business participate in 1% for the planet? If so, you can designate up to 1% of your profits to support EarthCorps. See onepercentfortheplanet.org
EarthCorps is a registered 501(c)3 non-profit organization. Financial contributions are tax-deductible to the extend the law allows. Tax ID# 91-159-2071