Volunteers bring joy to Herring's House Park
Did you know that there are over 485 parks in Seattle? Each of them is unique in its own ways. Some frequently visited parks make the lists of top places to visit in Seattle. While others remain less popular and attract different crowds of people.
This is the case for Herring's House Park. A park tucked away in West Seattle along the Duwamish River. From afar, it doesn't seem like much. It's surrounded by industry and is easy to miss. While it is not home to iconic old growth forests like Discovery Park or Seward Park, it is worth the visit. In a matter of minutes, the tidal estuary fills with water from the Duwamish River and the view changes completely. Osprey and Herons fly overhead as you walk down a trail lined with a variety of native plants.
Herring's House Park, or Tu'ul'altxw, is located across the street from the Duwamish Longhouse and holds a lot of history for the Duwamish people. Duwamish peoples lived on this land for more than 2,000 years and the park was once the site of at least one longhouse.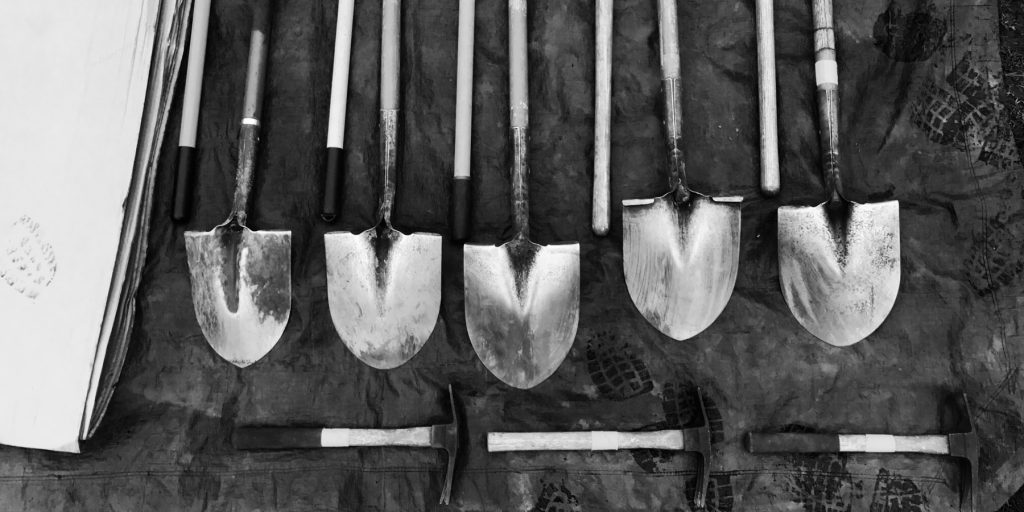 Fast forward to 2017: Herring's House Park had become less known for the significance of the land and the beauty of the river. Instead it was notorious for encampments, drug use, and other illicit activities. This created new challenges to not only environmental restoration work, but also to doing this work with volunteers.
We arrive early to every volunteer event at Herring's House with trash grabbers and trash bags in hand to clear out the site before the volunteers arrive. It is hard not to feel discouraged doing this work, especially when we know great restoration work is being done.
I would be lying, if I said that I looked forward to working in Herring's House Park, back in February 2017, when I started leading volunteer events there. In fact, I used to dread it.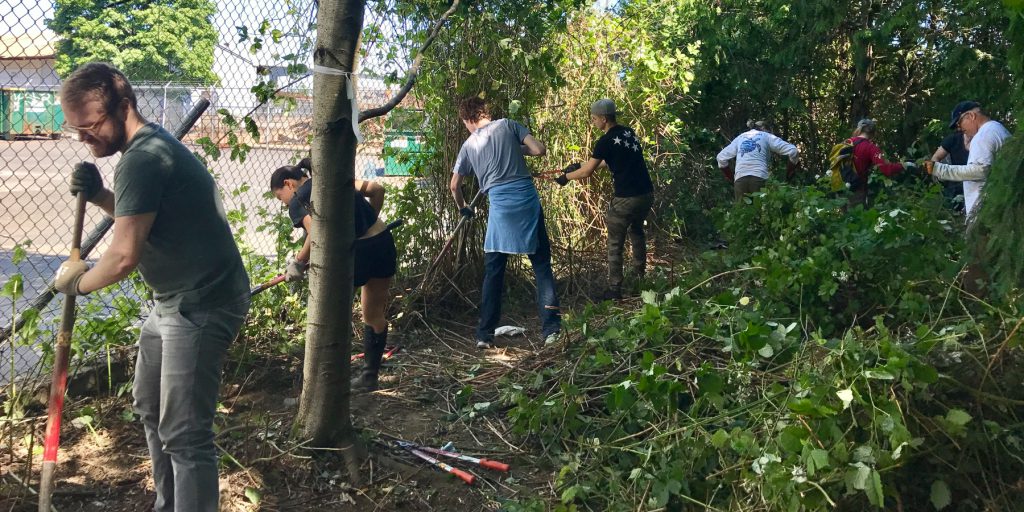 My perception of Herring's House started to change at an event later that spring. On that day we had volunteers working to clear out blackberry and ivy along a fence. The whole day the volunteers were awesome!  They were interested, hardworking, and willing to meet and interact with a whole group of strangers. They insisted on removing all of the blackberry that had climbed up a fence on the edge of the park. Not only that, but they also stayed past the end of the event to make sure we moved all of the mulch, which happened to be located a 5 minute walk away from the site. I was blown away and left that event feeling better than I ever had about Herring's House.
As I continued to lead events at Herring's House, the groups of volunteers coming out continued to be amazing. The amount of work getting done was outstanding and it was obvious how much progress we had made since we started work back in February. Without even realizing it, I found myself looking forward to the events at Herring's House because I was so excited to meet the volunteers and to see how much work they would get done.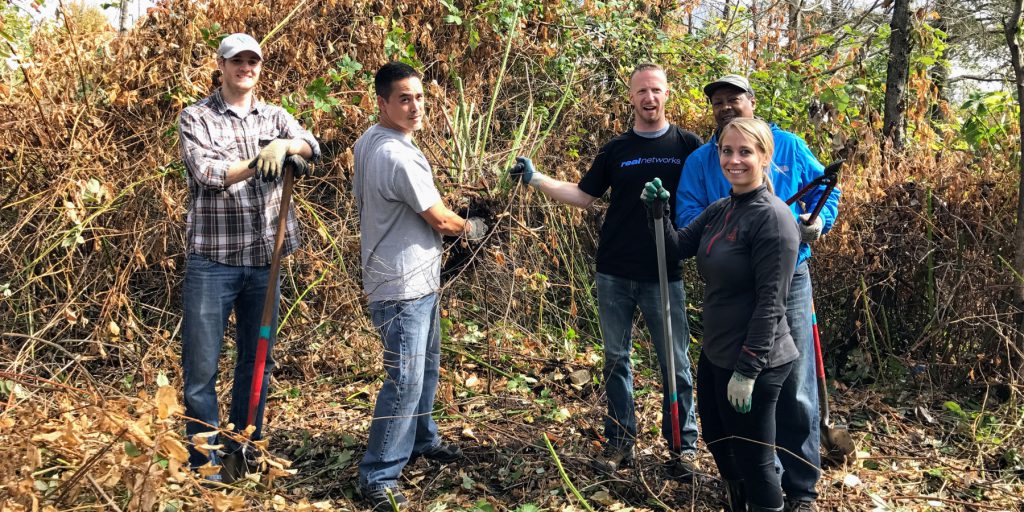 It was not just the volunteers and the amount of work getting done that gave me a big fat smile at the end of each event. It was the change that I started noticing in the park. The more blackberry we cleared out, the more we opened up new sightlines. Less blackberry, less garbage. The morning pre-event walk-through with trash grabbers took far less time, and that was a good feeling.
I had an encounter with a Seattle Parks employee who had come to help clear some garbage one day and he shared similar feelings about the park. As we chatted, he thanked me for all the work that we had done because he too had noticed a change in the park.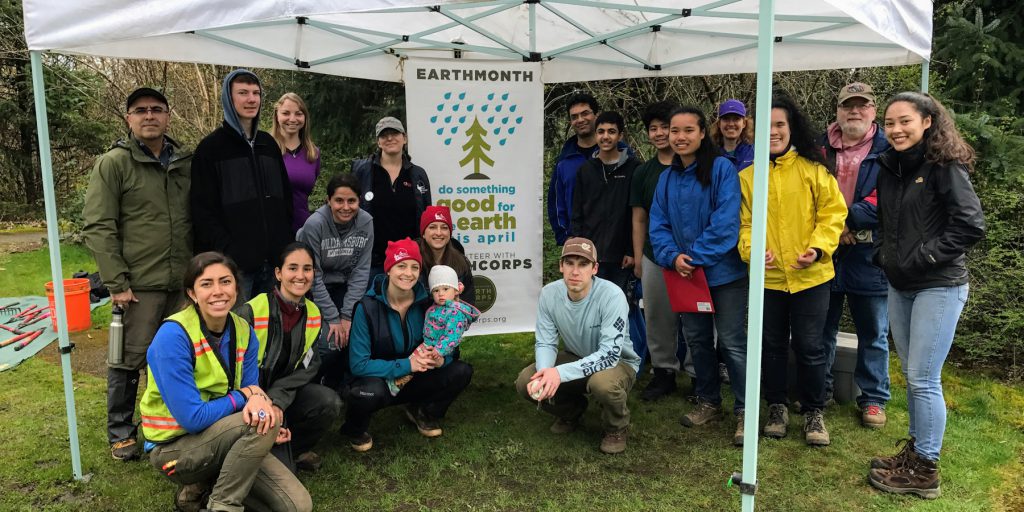 My response was simple, do not thank me, thank all of the hard working volunteers who have given up their Saturdays to come spend a day doing something good for their city. I am not sure if volunteers leave events knowing just how big their impact is on a place and just how grateful I am for all of their hard work. It is purely because of these volunteers that I look forward to my events at Herring's House.
On December 2nd I had my last event at Herring's House. It was the culmination of hundreds of volunteer hours spent removing a significant amount of blackberry and ivy. Although it was an especially rainy day, that did not stop anyone from getting work done. One volunteer even made herself a trash bag poncho and got busy planting. What better way to finish off the year than putting some life into a park that deserves to be healthy and recognized for its beauty and cultural significance with some absolutely wonderful volunteers?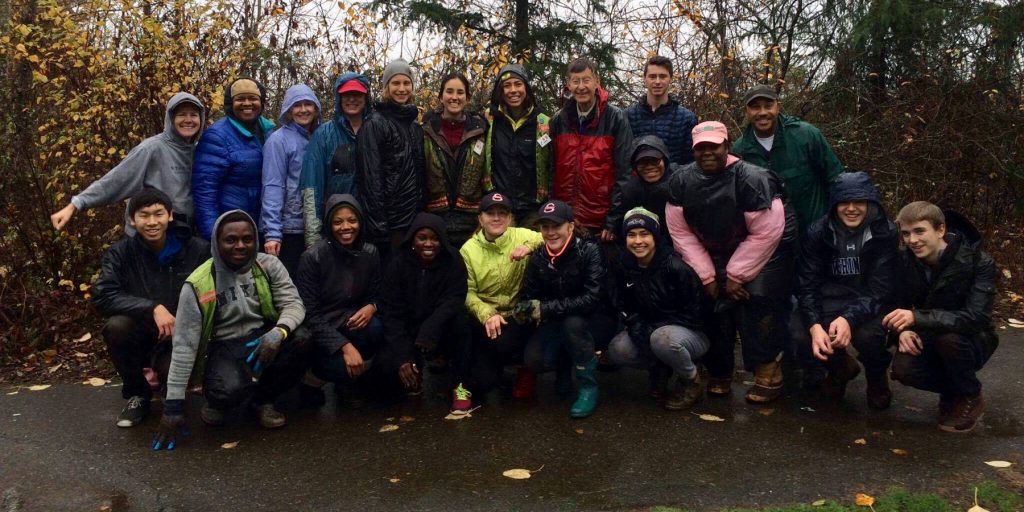 Quena is an AmeriCorps member and Volunteer Specialist on EarthCorps' Volunteer Team. EarthCorps' Volunteer Team hosts hundreds of events each year with about 10,000 volunteers who we rely on to do an impressive amount of restoration work in parks all over the greater Seattle area. Quena managed restoration events for West Seattle parks including Camp Long, Longfellow Creek, Herring's House, and Lincoln Park. Learn more about our volunteer program and sign up to volunteer!