Proud to be a Steward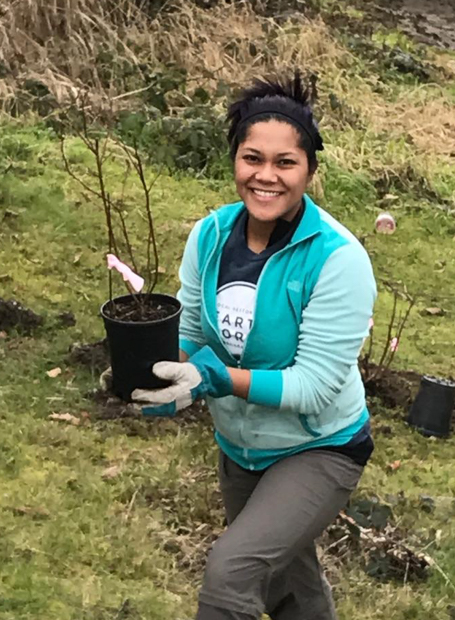 I began my time with EarthCorps by volunteering on the weekends at various parks around the Puget Sound. I would show up Saturday morning, work in the park for a few hours, and then go home.
After a month or two, I found myself wanting more.
I wanted to know which native plants worked best in our Pacific Northwest parks. I wanted to learn more about Seattle's history. I wanted to know what happens to the area of blackberry vines that I dug out. I wanted to see the trees I planted, take root and grow. I wanted to be part of a team, meet new people, and spend more time outdoors. The EarthCorps staff recognized my need for more and suggested I join the EarthCorps family as a Puget Sound Steward.

It's been about two years, and I don't plan to leave any time soon!
I've enjoyed every minute as a Puget Sound Steward (yes, even the blackberry pulling!). For starters, all of my teammates have taught me something new and are fun to work with. It is an incredible feeling to work with a group of people who share similar passions.
Not only do I get to work with amazing people, I get to work on sites that make an impact on the community. My team manages two sites: the Tukwila Community Center and the Duwamish Substation.
One of my favorite things about the Tukwila Community Center is working in the Fall, while the fishermen are out catching salmon. The fishermen tell us they appreciate the work we do around the park.
The Duwamish Substation has been the more difficult of the two, but it has also been the most rewarding. Our team received this site in 2015 with barely any work done to it.  We took on this site because we wanted to start from scratch and see this project through, beginning to end. Two years ago, the Duwamish Substation site was overrun by tansy, almost as tall as me. Now, the site is noticeably different! Most of the tansy are gone and have been replaced by Oregon Grape and Snowberry shrubs.
Honestly, I didn't know what to expect when I first started as a Puget Sound Steward.
I was nervous to lead a group of volunteers and afraid that our sites weren't going to do well. Now, I look forward to seeing the happy, smiling faces of our volunteers on Saturday mornings. I've met dozens of eager, hard-working volunteers, from 8-year old Girl Scout troops to retirees wanting to spend more time outdoors. After many events filled with blackberry and tansy removal, we have planted over 300 plants in both sites combined. I am happy to say our sites are happy, healthy, and thriving!
Every Saturday that I'm out working with my team has improved our community, our environment, and myself. It's been two years and I still learn something new about our sites and the plants we work with. In the beginning, I wanted more out of the usual Saturday volunteer events. Through the Puget Sound Steward Program, I have learned more about Seattle and the beautiful Pacific Northwest, met amazing people, made valuable friendships, connected with the community, and spent more time outdoors.