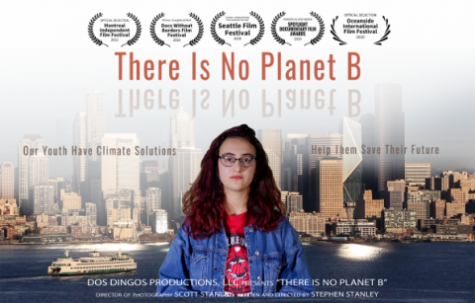 Thursday, April 22
12:00 – 1:30pm Pacific Time
Virtual Event
There Is No Planet B documents the efforts of young people in Seattle who have taken action against the threat of climate change and who implement practical solutions here in the Pacific Northwest.
The virtual film screening will be followed by a panel discussion with filmmaker Stephen Stanley and Lylianna Allala, Climate Justice Director for the City of Seattle. The panel will be moderated by EarthCorps alum Michael Rockwell.
Don't miss your chance to hear  from these changemakers as we celebrate hope for a better tomorrow!
Meet our panelists
Lylianna Allala

Lylianna Allala is the City of Seattle's Climate Justice Director. A passionate environmental and climate justice advocate, Lylianna has dedicated her career to empowering communities and elevating voices to change the conversation in the environmental movement. She has spent the last decade working with nonprofits, elected officials, local, regional and federal governments, and community groups, and most recently served as Outreach Coordinator and Legislative Aide for Congresswoman Pramila Jayapal. Lylianna's expertise in habitat restoration, environmental education, leadership development, and green jobs, as well as her passion for community building and storytelling, have allowed her to build an environmental movement that reflects all of us who are impacted by climate change. Lylianna is a proud EarthCorps alumna.
Stephen Stanley

Stephen Stanley is a watershed scientist and educator. He is a partner in Dos Dingos Productions and has produced visual and print media to protect and restore ecosystems along the west coast for several years. His newest film, There is No Planet B, has received numerous awards including the 2020 Seattle Film Festival for best "Environmental Documentary", "Exceptional Merit" at the 2020 Docs Without Borders Film Festival and the "Silver Award" from the 2020 Spotlight Film Festival.
Michael Rockwell

Michael Rockwell spent the past 3 years at EarthCorps learning how to use ecological restoration projects to empower life-long leadership development. He worked on projects throughout the Puget Sound including building the Lake 22 trail bridge, planting projects throughout Seattle, and managing the Commencement Bay Superfund Sites in Tacoma. Mike is passionate about land conservation, leadership development, and sustainable business. He is currently the Alumni Board Fellow on EarthCorps' board of directors. Mike also cofounded a community-based cold brew company, Tsuga Nitro Brew, with his best friend and fellow EarthCorps alumnus, out of a desire to create a more sustainable and equitable world one cup of coffee at a time. Check out their coffee and maybe grab a cup while you sit back and watch the There is No Planet B film!
Register to attend the event
Registration for the event has now closed. A Zoom link will be sent to all registered guests.