End of Year Giving
EarthCorps cultivates leaders and community partnerships to advance environmental justice – but we need your help in order to make it happen.
We hope you'll join us this giving season by making an end-of-year gift and supporting our vision of an equitable world where all people and nature thrive together.
Our Vision for the Next Three Years
EARTHCORPS' STRATEGIC PLAN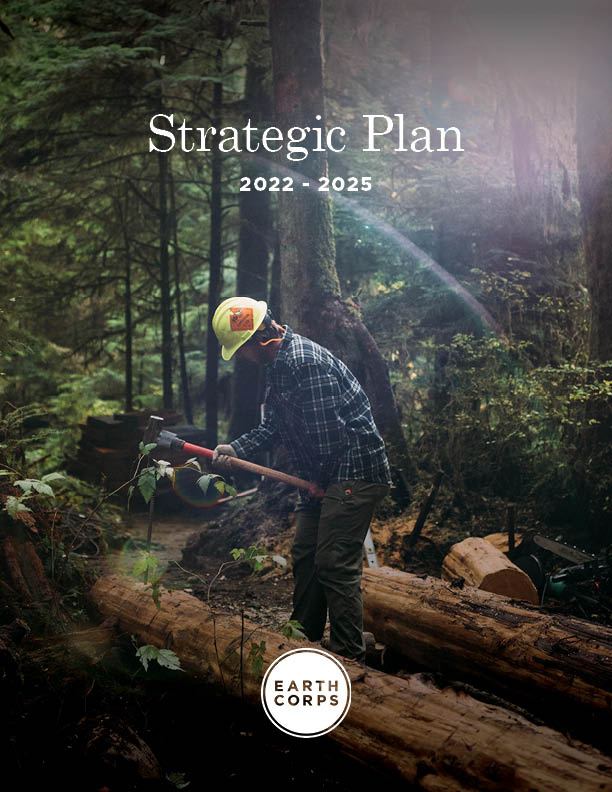 EarthCorps has always been committed to local restoration and global leadership. However, environmental degradation disproportionately affects low-income communities and communities of color. As we reflect on our work, we've begun to understand whom we have unintentionally left out in our commitment to environmental stewardship.
To realize our new vision, EarthCorps envisions an equitable world where all people and nature thrive together, we have identified five priority areas: Impactful Environmental Restoration, Community Partnerships, Diverse and Sustainable Resources, Anti-Racist Culture, and Environmental Leaders. These areas will guide us as we navigate into the next chapter and reimagine our place in the global environmental movement.
Get Involved
This giving season, join EarthCorps in working towards greener futures for all. By making a gift, raising awareness, and getting involved you're supporting a world where all communities and ecosystems are resilient to the world's most pressing environmental issues.
Give a Gift, Get a Gift

Sign Up for Recurring Donations

For a limited time and while supplies last, all recurring gifts of 30 USD or more will receive an EarthCorps carabiner mug and early access to registration for our 30th anniversary activities in 2023, including Revive!
Raise Awareness

Organize a Peer-to-Peer Fundraiser

Explore our Resources
Giving Tuesday Match

Save the Date!

Tuesday, November 29 is Giving Tuesday! To celebrate, an anonymous donor has offered to match all gifts up to $5,000. Save the date and further your impact!

Sign up for EarthCorps' mailing list to stay up to date on events and news.
Invest in a Brighter Future for All
We believe honesty is the best policy. For every dollar earned, 79% goes directly back into our life-changing program.
* indicates a required field