EarthCorps' Corporate Partnerships
Will you join us in building an equitable Puget Sound? 
We are dedicated to supporting the communities most impacted by environmental degradation and believe in the power of people to restore ecosystems, protect the environment, increase access to nature, and address climate change. We hope you'll join us on our mission to cultivate leaders and community partnerships to advance environmental justice agendas, projects, and initiatives throughout Puget Sound.
However, we can't do it alone.
More than 10,000 youth, business leaders, and community members join us annually as we work to restore and sustain the region's natural ecosystems and green spaces for future generations to enjoy. By sponsoring our program, you are investing in a healthy and sustainable world and providing the next generation of youth with the knowledge, skills, and experience to deal with pressing global environmental challenges; more importantly, your support will significantly improve natural habitats and the well-being of many BIPOC communities in the region.
Corporate Volunteer Event Packages
The EarthCorps volunteer events are safe, engaging, educational, and fun for the whole family. Additionally, our volunteers learn about the history of the land and the surrounding communities through their interactions with community stewards, tribes, and professionals.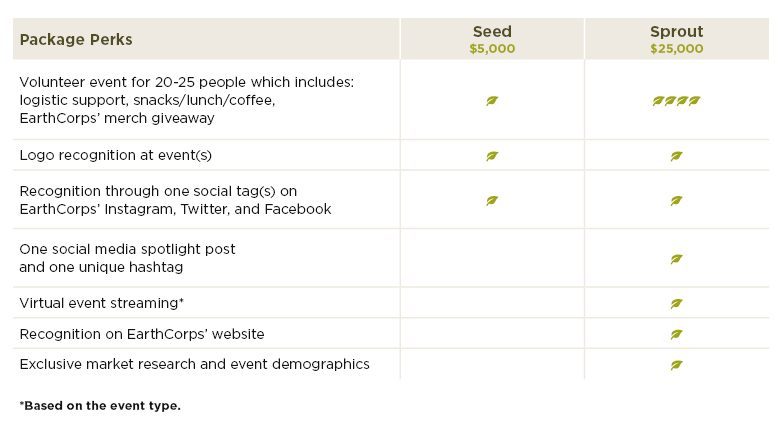 Benefits of Partnership
Empower local BIPOC communities: Give back by fostering quality living environments in underserved communities throughout the Puget Sound region.
Build a greener and equitable future: Restore and sustain local ecosystems and make lasting change – ensuring future generations have easy and equal access to green spaces and healthy environments.
Empower your team: Improve company culture and employee retention through team-building activities and unique volunteer experiences and events.
Connect with local and global communities: EarthCorps' community represents over 41 U.S. states and 80 countries.
Logistical support: we take care of permitting, insurance requirements, and communicate with agency partners to secure a location within your preferred city/area.
Tools, gloves, and necessary work materials provided.
Guidance from multiple trained habitat restoration professional.
History of the habitat restoration site.