Save the Salmon to Save the Orcas
Puget Sound orcas are hungry.
The Southern Resident killer whales, who spend summer and fall in Puget Sound, are picky eaters. About 80% of their diet is Chinook salmon – and they eat a lot of them. An adult orca eats about 385 pounds of fish each day!
The Southern Resident killer whales developed a taste for Chinook salmon because the Puget Sound was once full of them. The abundance of Chinook salmon made it easy for the orcas to stay satiated and well fed. Today, that's not the case. Chinook salmon populations remain at 10% of their historic numbers.
Toxic pollution is one of the biggest threats to Chinook salmon's survival.
It's a heavy lift to clean up the Puget Sound, but EarthCorps is up for the challenge. Literally.
Last year, EarthCorps helped lift and remove 60 tons of toxic creosote-coated logs from remote beaches in the San Juan Islands. Soaked into those logs were approximately 3,100 gallons of a creosote, a petroleum-based toxic stew composed of dozens of chemicals.
Piers, docks, and bulkheads were once constructed with lumber from local forests that was treated with creosote. The use of creosote is now banned, but the toxic chemicals that continually leach from derelict structures and debris are deadly to marine life.
Chemicals found in creosote harm juvenile salmon by reducing their growth, deforming developing hearts, and altering immune function.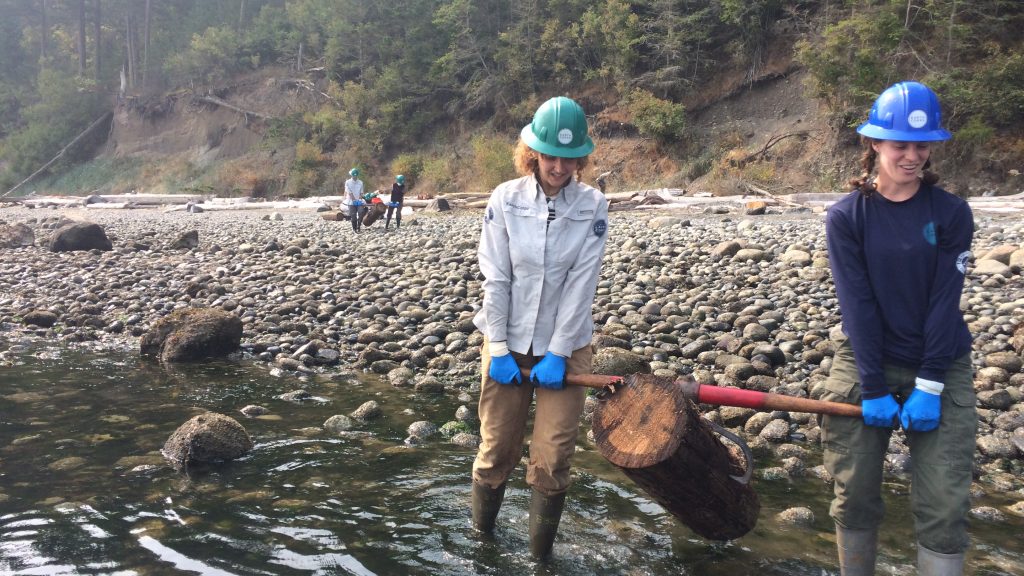 Removing the toxic creosote-coated logs increases Chinook salmon's chance of survival, and helps keep orcas fed.
Working with the Samish Indian Nation and the Washington Department of Natural Resources, EarthCorps crews cleared contaminated logs from the shores of Griffin Bay on San Juan Island as well as the western shore of Lummi Island, where tribal monitors had spotted large amounts of washed-up creosote-coated debris.
Using a special amphibious landing craft to reach otherwise inaccessible beaches, EarthCorps crews identified and hauled heavy logs away for safe disposal.
June is Orca Action Month. Learn more about how EarthCorps is helping Southern Resident orca whales, including maintaining rain gardens to filter pollutants out of stormwater runoff.